Monthly Special
(Mar 2019 )
Enjoy the best flavors of the season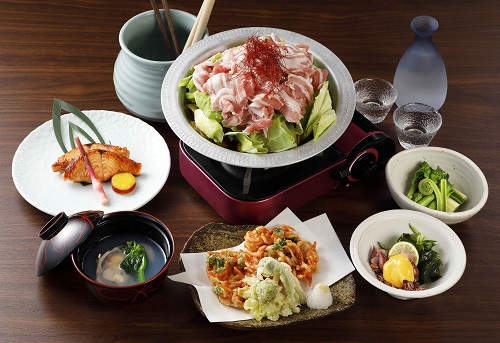 Monthly specials from all over Japan presented by flavor-enhancing cooking method.
Photo: Pork with Spring Cabbage in Hotpot, Boiled Spring Vegetables, Vinegared Firefly Squid, Sakura Shrimp Kakiage Tempura and Spring Vegetables Tempura, Hamaguri Clam in Clear Soup, Teriyaki Masu Salmon
Daily Lunch Set / March Special.
Restaurant Booking Hotline 2577-5796
(11:00-22:00)
✿Selected Sake in Spring✿

初孫 美咲 純米大吟醸
HATSUMAGO MISAKI Junmai Daiginjo, Graceful and clear texture and light body may image early springtime. Please drink by wine glass to enjoy aroma.
あさ開 冷奨 特別純米
ASABIRAKI REISHO Special Junmai, Sake brewing technique by traditional Nanbu Masters make it mellow texture and delicate aroma like bloomed cherry blossoms.
23 March On Sale, Limited number! Click here
5F Restaurant Reservation
☎2577-5796 (11:00~22:00 Daily)
"Private Party Rooms Available!"

Any plans for gathering or Company Dinner in spring? Our private rooms might be a good choice for you! On 5/F Restaurants, we have "Sakura" Tatami private room for 4~8 persons, "Sumire" standard private room with capacity of up to 20persons and "Bauhinia" with kids room. Also, for 20 persons up, our function rooms "Matsu room" and/or "Kiku room" with party menu HK$400/p up are available on 9F. For more details please contact us. 5F Restaurant Reservation ☎2577-5796 (11:00~22:00 Daily) 9F Function Room Reservation ☎2577-3669 (9:00~17:30 Mon-Fri)

News
> Others Privileges 2019 更新
> Limited Offer from Ocean Park!
"Hokkaido Fest" launching soon from March 23 – April 14, 2019,
Family Fun Day on March 23, 2019 (Saturday) with 40% discount
For more details, Please Click .
Event Information
Monthly Special and Event Informaton

Birthday Gift
Let us celebrate your special month with you! At the beginning of your birth month, a birthday card will be sent to you. This offer is vaild during your birth month only.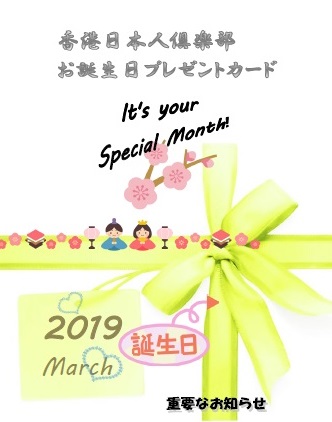 To register your birthday, please contact executive office ☎:2577-3669